J. Jacobs and Associates has been Family owned and operated since 1981.
When J. Jacobs & Associates was started, our goal has always been to provide the best insurance for consumers and business. We focus on your needs first, and develop a custom plan that meets those needs and stays within a budget you can afford. Because we're local, you'll always find a friendly, welcoming voice answering our phone and you'll always have the opportunity to come into our office and talk face to face.
We have access to over 50 companies for our commercial lines and 15 for our Personal Auto and Home lines of business. What does that mean for you? It means we are a one stop shop, we will shop your Business, Auto, Homeowners, and Life insurance through multiple companies to find the best price for the coverage you need. Not only will we shop you in the beginning, if there are increases you can call us to shop you again instead of wasting time doing it yourselves. All of our companies are highly rated and a lot of them are Michigan Based to keep the money in our state.
About Our Founders
Jeff Jacobs, the founder of Jacobs Insurance, started in 1981 and grew to be one of the top 5 agents in Michigan through the company he sold for. In 2005 he left that company to become a independent agent so that he could give his customers a better experience. In 2014 Jeff Retired and Joseph Jacobs his son now runs the agency.  Independent agents have the ability to have licenses with multiple companies and therefore are able to shop your insurance for you to keep your budget inline from year to year.
Joseph Jacobs, has been in the business since 2001. With his bachelors degree in Finance from U of M and growing up in an agency most of his life is able to give you options when it comes to what insurance you need to protect your family, businesses, and assets.
Why do business with J. Jacobs and Associates?
Unlike a captive, or direct insurance company who only offers their own proprietary products, our agency is 100% independent of any one company. Many insurance consumers don't fully understand just how important that really is.
When it comes to something as important as insurance, it's imperative that you work with an agency who has an in-depth knowledge of multiple insurance products, companies, and guidelines — not just one.
At the end of the day, what separates one agent from another, is their ability to proactively service their policy holders, and their knowledge of the insurance industry, products, and different situations that may present themselves to their clients.
Independent Agent Vs. The Rest
Here is a quick comparison of the differences between an independent agency like us, and the various other types of companies that are out there: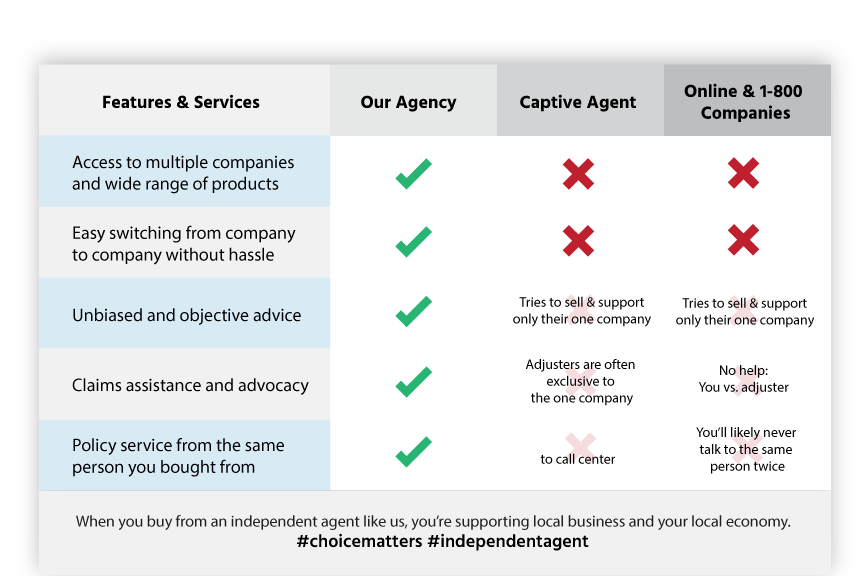 If you'd like to get started with a complimentary quote and/or policy review, we'd be happy to help you any way we can. Simply complete the fields below to get started online in a matter of seconds.
We appreciate the opportunity to help you, and look forward to servicing your insurance needs! Feel free to call us directly if you have more detailed questions.